General Tasks bottleneck calculator
1. Select purpose
Currently selected: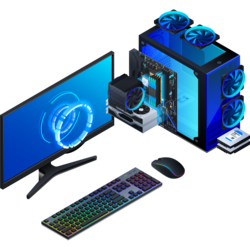 General Tasks
Step 2: Select CPU
Congratulations on making it to the crucial step of selecting a processor in our Bottleneck Calculator! By now, you've already chosen your purpose or game which you intend to run it. Now, it's time to pick the brain of your system: the CPU (Central Processing Unit).
Why the CPU Matters
The CPU plays a vital role in determining the performance of your computer. A mismatch between your CPU and other hardware components can lead to bottlenecks, significantly impacting your gaming experience or the effectiveness of other tasks.
How to Choose
We've compiled a list of the most popular processors, to help you make an informed decision. Consider the following while making your selection:
Compatibility: Make sure the CPU you choose is compatible with your motherboard.
Performance Needs: If you're aiming for high-resolution gaming or CPU-intensive tasks, you'll need a more powerful processor.
Budget: High-end CPUs can be expensive, so ensure your choice fits within your budget.
Bottleneck calculator types
Select purpose bottleneck calculator
Select game bottleneck calculator
By selecting a game from the list, the calculator will analyze potential bottlenecks specifically tailored to that game's system requirements and graphical demands. This allows you to optimize your setup for a smoother, more responsive gaming experience. Choose the game that aligns with your interests to get the relevant bottleneck analysis.